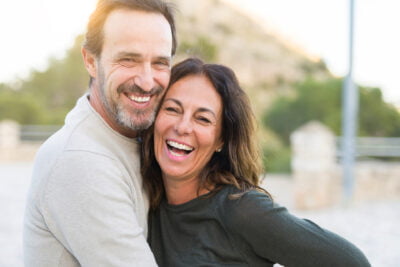 If any dentist has ever said that you are not a good prospect for implants or a full mouth reconstruction, then All-on-4® is specifically created for you! A serious challenge faced by many women and men is that they have no teeth or very poor teeth due to jawbone deterioration. The only way you can affix implants is with strong bone! Yuba City Dentistry Group provides a resolution to this problem.
Dental Implants Promotion
$17,999 – Final Prosthesis Included
Reg. $20,000

Save $2,000!
Includes Initial Exam
Includes Treatment Plan
Includes X-rays
Includes Full Treatment & Final Prosthesis
Expires 05/31/2023
Why Use All-on-4®?
Previously, the only remedy for a lack of bone was adding more bone with grafting. Whereas bone grafting has advantages, it also increases expenses and demands more time for recovery. The All-on-4® cure to the jawbone grafting challenge was started over thirty years ago in Portugal. Sampling, research and development, followed by decades of dental study around the world, led to clear confirmation of the following advantages that come from All-on-4®:
Lesser Expense — 50% of the budget of dental implants typically comes from the bone grafting procedure. Eliminating jawbone grafts reduces the budget of the All-on-4® treatment.
Better Grade — If you don't undergo jawbone grafts, you demand better implants that can still affix properly to the remaining bone. All-on-4® implants were specially created for this function.
Less Time — All-on-4® eliminates the mending time involved for jawbone grafts and immediately provides a working, secure connection to the jawbone.
Finer Esthetics — By attaching teeth on the same day of the treatment, All-on-4® begins improving patient self-confidence right away!
So, if you are weary of broken dentures or have suffered thru life without teeth, the All-on-4® system is created to help you. The Yuba City Dentistry Group is ready to assist with this life-adjusting treatment.
The All-on-4® Procedure
Your Initial All-on-4® Consultation
Only four implants are needed to substitute for the teeth on the lower and upper arch of the jawbone, thus the name All-on-4®. At your initial consultation for All-on-4®, our Lincoln doctor determines your plans. For example, do you desire permanently affixed dentures, or the form that snap-on and off the dental implants? What color and appearance would you desire for the teeth? What is your dental history and how will it determine your procedure? Are you interested in All-on-4® for both the maxillary and mandibular arch, or just one?
Deciding on Implant Attachment
After determining your objectives, we then progress to the consideration of where to locate your dental implants. Placing implants is precise work. Our doctor needs to comprehend exactly how much bone you have and where the bones are toughest. The location and length of the dental implants are decided on by taking x-rays and scans of the mouth and the surrounding bone system. All-on-4® offers various sizes of implants and designs of dental prosthetics based on your custom needs.
The All-on-4® Dental Implant Procedure
We also look at your smile. Your satisfaction is our objective, and that means building a useful implant that works properly and looks terrific to you and others! Based on the structure of your upper and lower jaws, the manner in which you smile, and the appropriate length of your teeth and gums, some cosmetic revisions on your gums may be needed during the treatment.
Attaching the Dental Implants
After finalizing our complete planning process, we bring you back to the office for the application of your dental implants. Any cosmetic adjustments to the gums are also completed at this time. The implants are tested at the time of placement. If they can hold the anticipated force from chewing, we install a set of "healing dentures" on the implants. These are attached transitional dentures that limit the forces placed on your dental implants.
Enjoying Your New Teeth
After a recovery period of 2-3 months, the implants have fused with your jawbone and can handle the forces made by eating with standard dentures. Over that time, your tailored dentures were made aligning with your specifications. After you return, we remove the healing dentures and affix the long-term dentures. If they are the removable sort, we make sure you can take them out easily before leaving our office.
With your brand-new complete set of teeth, you can return to enjoying the foods you like, to talking normally, to singing, and to smiling with self-esteem! The implants support your jaw and protect your remaining bone. Your confidence and appearance increase, and an essential part of your life appears normal again!
For more information about the All-on-4® process for full mouth reconstruction in Lincoln, contact Yuba City Dentistry Group.