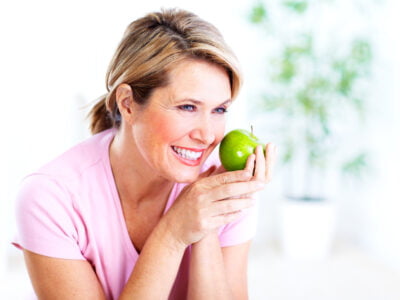 Losing all one's teeth (upper, lower, or both) is a challenging and sometimes traumatic experience. However, dentures provide a natural-looking and functional option that helps improve a patient's quality of life.
Whereas regular dentures rest on the gums and tend to slip or shift at times, an implant-supported denture attaches to titanium implants that have been inserted and fused to the jawbone. Many patients are drawn to the extra security and comfort these specialized dentures provide.
The Procedure
Before any work is done on your teeth, your dentist will conduct a comprehensive examination that includes reviewing your dental and medical history and x-rays. In some cases, he or she will conduct a computed tomography (CT) scan to accurately determine the location of your nerves and sinuses. If there is not enough bone to support an implant, your dentist will discuss the available options (including possible bone grafts).
If your dentist decides to move forward, he or she will typically schedule two surgeries to complete the implant procedure.
During the first surgery, the dentist will place the implant(s) in your jawbone. Healing time is typically three to six months, during which time the implants and bone will fuse together. You will be given a temporary denture to be used during this time.
Once the fusing process is complete, a second surgery will be scheduled to prepare the gums for accepting the new denture. (After completion of this surgery, the dentist will adjust the temporary denture as needed.)
About two weeks later, your dentist will place abutments on the head of the implants. (Your new denture will attach to these abutments.) He or she will then make an impression of your gum tissue and these abutments to make a working model that will be used to make the permanent denture framework and artificial teeth.
What to Expect
Like regular dentures, implant-supported dentures take time to get used to. However, you won't have to worry about them falling out of the mouth and you will be able to eat most foods that you could with natural teeth, with the exception of foods that are exceptionally hard or sticky.
Which option is best for you? Your Yuba City Dentist would be happy to help you make the right decision. Contact us today to set up an appointment.