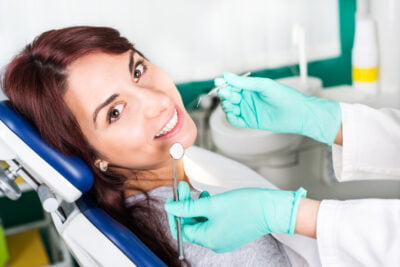 In the past, braces were used almost exclusively for children. But those days are over; nowadays, one in every five persons who wears braces is an adult.
Orthodontics – the treatment that involves straightening or moving teeth using special appliances – is now more popular with adults than ever. Why? New developments in technology have produced orthodontic appliances that are barely noticeable, making this option more attractive to many adults.
At the Yuba City Dentistry Group, we've helped many decide if orthodontic treatment is right for them. We can do the same for you.
Why Should I?
You could benefit from orthodontic treatment if you're looking for the following:
A straighter smile: Looks aren't everything. But straightening teeth is one way to boost confidence, providing significant social and professional benefits. Additionally, teeth tend to shift position throughout life. Orthodontics can put teeth back into their proper place.
Improved oral health: Straight teeth are easier to brush and floss. Thus, orthodontic treatment can help you stick to your routine – leading to less decay and healthier gums.
Help with other issues of the mouth: Orthodontic appliances help manage bite problems that lead to jaw pain. They may also be used to change the position of the teeth before placing a new bridge, crown, or implant.
Appliance Options
Orthodontic appliances generally work following the same principle: Move the teeth into proper position by applying light, constant force.
However, innovations in recent years have given rise to new appliance options, some of which are much more attractive to the average adult.
Orthodontic appliance options include:
Traditional metal braces: These small, metal brackets are bonded to the front of teeth, with a thin wire that runs through the middle.
Clear braces: This option works much the same as traditional braces, but instead of metal they use plastic or ceramic. The appliance is barely visible, except for the thin archwire.
Lingual braces: These braces are bonded to the back of your teeth (facing the tongue) so that they are not visible to others.
Clear aligners: These plastic devices are a series of clear plastic trays designed to achieve a custom fit over your teeth. They move the teeth just a bit at a time until reaching the proper position.
What to Expect
Since an adult's jaw growth and development is already complete, orthodontic treatment may take longer than that for a child. Treatment generally ranges from 12 month to a few years.
Of course, a good oral routine of brushing and flossing is vital when undergoing orthodontic treatment. Your dentist will show you a special way to floss to accommodate for the appliance. Additionally, you will need to wear a retainer for some time after the appliance is removed, to ensure your teeth stay in their proper position.
Remember, orthodontics can help you achieve the smile you desire, regardless of your age! Make an appointment with your Yuba City Dentist today to discuss the available options.