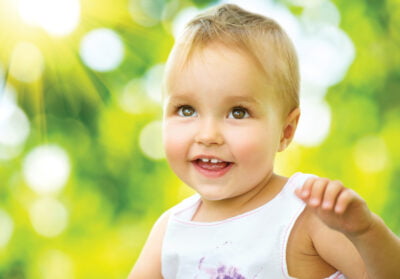 If you're a new parent, you know there's plenty to learn as you adapt to your new lifestyle. But when it comes to your child's oral health, we at the Yuba City Dentistry Group are here to help.
The American Academy of Pediatric Dentistry recommends that your child receive his or her first checkup by the first birthday. To many parents, this seems early – especially considering that your child may only have a few baby teeth visible at that age.
But when your child begins seeing a dentist at an early age, you make sure that he or she is learning the right oral hygiene techniques. These techniques will last a lifetime, giving your child the best possibility for excellent oral health. A positive experience can also do much to prevent any fear of the dentist from ever developing.
Additionally, your child's dentist can identify signs of developmental problems or cavities, which begin to show even at this early age. The gives the dentist opportunity to address any current or potential problems right away.
But what exactly should you expect from baby's first checkup?
Getting Ready for the Big Day
You'd be surprised how easily even small children pick up on their parents' feelings and emotions. For this reason, try not to be nervous about taking them to the dentist. Researching the first visit – for example reading this page – will help you realize there's nothing to worry about. With a warm and excited tone of voice, you can even help your child build excitement as you get ready to see "the special doctor" that helps children to have healthy teeth – the dentist.
Let your child know what to expect at the dentist's office. Generally, the first visit will include:
The dentist speaking to you and your child
An oral examination
You might want to bring your child's favorite toy, a snack, and an extra diaper – just in case your child gets fussy. If you have other children, it might help to leave them with a friend or loved one (or to bring someone along) so that you can focus your attention on the child receiving the checkup.
If you'd like to fill out any necessary paperwork ahead of time to save time and effort on the day of your child's appointment, just let us know and we'll be happy to provide it.
The Checkup
Once you're called into the office, the dentist will gently examine your child's mouth. The dentist wants to make sure there are no signs of decay and that the teeth and jaw are developing properly, as well as assess any risks of developing disease in the future. This type of exam can reduce (and even reverse) early stage tooth decay without any need to drill.
Your dentist will also discuss how to keep your child's oral health in the best condition. This will include topics such as:
How diet, eating habits, and good oral hygiene helps to prevent tooth decay
Any recommended treatments (such as fluoride), and what is involved
Tips on how to clean and brush effectively
To conclude, you'll schedule any follow up or make plans for your child's next visit.
Call Us
Have you scheduled your child for his or her first dental visit yet? Don't delay!
Contact us at the Yuba City Dentistry Group today, and we'll be happy to set up an appointment – and help you take the first step towards the best possible oral health for your child.
Schedule Your Child's First Appointment