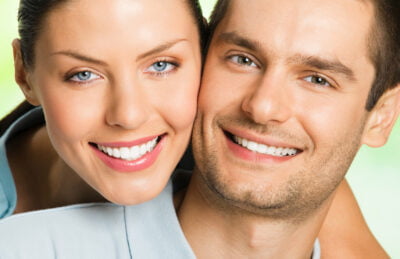 The incredible art of cosmetic dentistry repairs damage caused by time or genetics that lead to stains, chips, and other blemishes to your teeth. With many years of experience, our Yuba City dentists have seen a wide variety of cosmetic dental issues and they have a customized solution for each and every one. Here we explain how the Yuba City Dentistry Group whitens teeth, perfects them with precision veneers or applies a host of other procedures to make your smile brilliant. These techniques include:
Veneers are available from a variety of dental labs and manufacturers. An appliance that is actually attached to the front of the teeth to cover imperfections, veneers are strong and durable. Newer varieties require little preparation of the existing teeth.
Teeth grow darker over time from the natural chemicals in coffee, tea, wine and foods that we enjoy eating. Over-the-counter tooth whitening products are generally ineffective. Professional procedures are the only way to get whiter teeth, guaranteed.
Minor chips in a tooth can be repaired with the same materials used to fix a cavity. Although tooth bonding is less durable than dental veneers, it is a cost efficient method from which many of our Yuba City patients have benefited greatly.
If a tooth is only slightly damaged or misshapen, tooth contouring may be the perfect solution for you. To ensure the best results, x-rays are used to guarantee the integrity of the tooth is preserved when removing a minor amount of enamel to achieve the desired shape.
Some of our patients have an excess of gum tissue which makes their teeth appear shorter than they actually are. For a balanced smile, we want to show more teeth than we do gums. Modern cosmetic dentistry techniques help you achieve just that!
Do you want to achieve that "perfect smile" without numerous dental procedures? Snap on Smile simply takes a mold of your existing teeth and creates a smile appliance that literally "snaps on" over your old teeth creating a whole new look!
Smile Simulator
Want to find out what your smile will look like after your cosmetic procedure? The Smile Simulator gives you a digital look into the future, courtesy of the Yuba City Dentistry Group.For more information on each of these procedures, please visit their specific pages on our website.