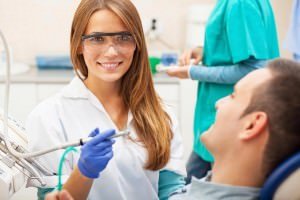 Medically named dental prophylaxis, we affirm that our dental hygienists offer you the finest dental cleaning in Yuba City dentistry.
During your dental cleaning, we take away any built up tartar, the toughened growths of plaque left by bacteria. This irritant is one of the major causes of gum disease. Removing plaque and tartar, often and professionally, is essential for your dental wellness.
Polishing the teeth is the final stage in your cleaning. Not just a cosmetic treatment, polishing eliminates stains or plaque missed during the cleaning. It leaves your teeth feeling fresh and your mouth remarkably clean!
As a Yuba City dentist, we effectively provide this service for all members of the family, no matter what their age. If you have difficulties with excessive stress in a dental chair, the Yuba City Dentistry Group also offers oral conscious sedation to help insure that you come see us regularly so you may prevent the costly difficulties that come from dental procrastination.