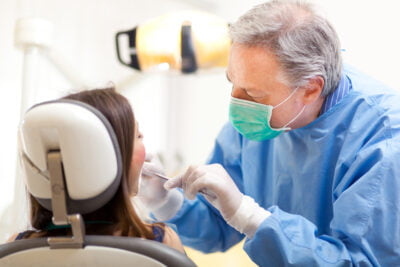 If you suffer from a disease, injury, or defect in or around your mouth, oral maxillofacial surgery may eventually be required. This branch of dentistry involves procedures that range from very routine to extremely complex, depending on your circumstances.
Oral and Maxillofacial Surgeons
Oral and maxillofacial surgeons are the experts in procedures like tooth extractions and injury repair. In addition to graduating dental school, these specialists have received at least an additional four years of training as a resident physician at either a dental school or hospital, with many obtaining additional years of training in a subspecialty of their choice.
Besides honing their surgical skills, oral and maxillofacial surgeons also receive extensive training in general anesthesia and intravenous sedation.
You may be treated by an oral surgeon for one or more of the following:
Removal of an impacted tooth (teeth)
Cosmetic or reconstructive surgery
Lesion removal and biopsy
Cleft lip and cleft palate repair
Treatment of facial infections
Surgical treatment of obstructive sleep apnea
Years of Experience
At the Yuba City Dentistry Group, our priority is to provide you the best care possible. In addition to excellent training, our oral and maxillofacial surgeons have years of experience and are always ready to help.
If you believe you would benefit from the services of an oral maxillofacial surgeon, feel free to peruse the rest of our oral surgery pages for more information.