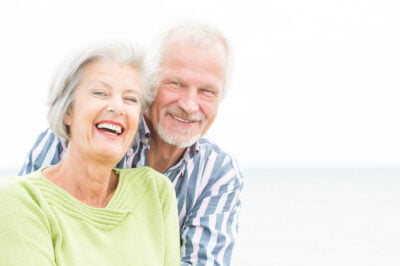 Unfortunately, some patients will be forced to deal with significant tooth loss. But there's good news! Modern dentures look natural and are more comfortable than ever before.
By definition, dentures are a prosthetic device that can be placed in the mouth and easily removed. Dentures are made up of artificial teeth attached to a flesh-colored, acrylic base that fits over your gums. You may benefit from full or partial dentures, depending on your personal circumstances. Here we will present full denture options.
Full Dentures
Full dentures come in three different varieties, as follows:
Immediate Dentures:
This form of denture is typically used on a temporary basis, as a transition to a more permanent solution.
For example, if major tooth loss occurs suddenly, your gums will most likely shrink and your facial muscles will then adjust. In this case, it is better to wait before designing any permanent prosthesis. Immediate Dentures may be used in the meantime.
Conventional Full Dentures:
More permanent than immediate dentures, this type of prosthesis is custom-fit to your mouth.
After you have healed from any trauma or treatment, your dentist will take an impression of your mouth to form a mold. A dental technician will then use this mold to manufacture your new dentures.
Implant Supported Overdentures:
With this option, a dentist must first place dental implants into the mouth. The dentures will be secured to the dental implants, which serve as anchors and keep the prosthesis in place.
Although patients and doctors are drawn to the stability of implant supported overdentures, the process is complex and takes significantly longer to complete.
Choosing the Best Option
When it comes to dentures, there are numerous options available, and a variety of factors that will influence what treatment is best for you. If you're suffering from multiple tooth loss, why not make an appointment with the Yuba City Dentistry Group today?
We'll find the right solution, together.