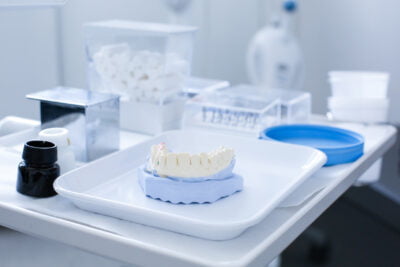 Often times, oral health can be addressed with a single procedure or short-term treatment plan. In certain situations, however, a patient may require a full mouth restoration to return the mouth to full function.
A full mouth restoration, also referred to as full mouth reconstruction or full mouth rehabilitation, typically involves a number of dentists and specialists carrying out various procedures. It may include general and restorative dentists, periodontists, oral surgeons, orthodontists, and/or endodontists.
The goal is to restore your jaw, teeth and gums to full function, and give you the smile that you desire.
Who Would Benefit from a Full Restoration?
Patients with the following conditions should consider undergoing a full mouth restoration:
Several teeth have been lost due to decay or trauma
Several teeth have been severely injured or fractured
Teeth have severely worn down due to long-term acid erosion (from diet or acid reflux) or tooth grinding
Unresolved problems with jaw, muscle, and headache pain due to improper bite or jaw alignment
Before planning any type of full mouth restoration, your dentist will conduct a comprehensive examination of your mouth to determine the extent of your problem(s) and any potential treatment options.
What Is Involved
Every full mouth restoration is unique. Examinations take place over time, include x-rays and other diagnostic techniques, and may involve multiple specialists. At times, a special type of dentist known as a prosthodontist may take the lead in overseeing your treatment. Prosthodontists are specially trained in the complexity of full restorations and can serve as the "architect" of your treatment plan.
Full mouth restorations involve several procedures and treatments. Depending on your situation, you may be recommended to undergo one or more of the following:
Tooth filling and root canal therapy
Scaling and root planing
Orthodontic treatment (such as braces)
Dental crowns, bonding, and/or veneers
Dental inlays and/or onlays
Bridgework
Bone or soft tissue grafting
Dental implants
Use of a mouthguard
As you can imagine, a complete treatment plan takes place over time – perhaps taking a year or longer.
The First Steps
If you and your dentist decide that a full mouth restoration is the best option available, it is important to discuss the cost of care and what is covered by your dental insurance. Additionally, you can discuss the mental and emotional repercussions of undergoing such an extensive and time-consuming set of procedures.
If you believe you would benefit from a full mouth restoration, make an appointment today with the Yuba City Dentistry Group and we would be happy to schedule an initial examination and consultation.