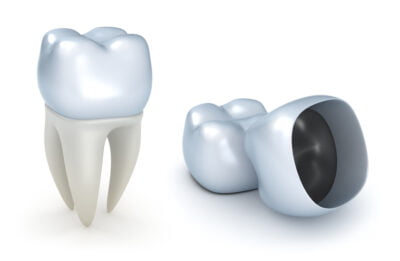 If one of your teeth has been structurally damaged due to decay or trauma, your Yuba City Dentist can recommend a variety of treatment options. One of the most common and effective of these is the use of a crown.
A dental crown is a cover or cap that is shaped like your tooth. Fitting over the main structure of the tooth, its purpose is to restore the tooth to original size, shape and strength. Different types of crowns are made up of different materials, and some can be made to match your tooth's natural appearance. In other cases, more noticeable materials are used to crown teeth located in the back of the mouth. In most cases, others won't notice that a tooth has a crown.
Do I Need a Crown?
There are a variety of reasons your dentist may recommend crown placement. They include:
Replacing a large filling if the tooth is missing a large part of its structure
Protecting a weak tooth that is in danger of breaking
Restoring a tooth that is extremely worn or has been fractured
Supporting a dental bridge
Covering a tooth with severe discoloration
Covering a dental implant
Strengthening a tooth that has received root canal treatment
If your problems are less severe, you may be able to avoid the use of a crown, and instead our dentists may apply an inlay or an onlay. An onlay basically removes the majority of a decayed natural crown, but preserves the rest of the tooth. An inlay is similar to a large filling, but occupies far more damaged surface area than a filling could ever hope to manage. Both of these restorations must be made to fit in a dental lab, but the process is considerably simpler than what is required for a crown.
The Application Process
Crown preparation and placement varies depending on which tooth is being capped, and what material makes up the crown; however, crowning typically requires two or three visits to the dentist.
On the first visit, your tooth will be prepared for the new crown. Your dentist will probably perform some drilling to give the tooth a uniform shape. Afterwards, impressions of your tooth will be taken and sent to a dental lab, where technicians will create an attractive and functional crown. This process takes between one and three weeks.
Once the crown is ready, your dentist will attach it permanently. You should care for a tooth with a crown on it the same as any other, with a good routine of brushing and flossing.