Dental Implants Promotion
$2,998
Reg. $4,882
Save $1,884!
Includes crown
Includes dental implant
Includes bone grafting (if needed)
Expires 11/30/2023
Replace Teeth with Dental Implants
Teeth are permanently lost for a number of reasons: tooth decay, gum disease, bone loss and accidental trauma all contribute to a large number of losses and extractions. Now an established part of dental practice, implant tooth replacement meets the highest standard of reconstructive dentistry available from the Yuba City Dentistry Group. Our dentists can replace one tooth, multiple teeth or entire arches using dental implant technology.
How Dental Implants Work
A dental implant is essentially a two-part device for replacing teeth. The first part is a titanium screw designed for attaching to jawbone. Bone responds remarkably well to titanium and treats the metal as if it was a part of the natural bone matrix. The result is an extremely strong foundation for a replacement tooth, the second part of a dental implant. The replacement tooth is much like a dental crown, but it attaches to an implant instead of covering a damaged tooth. Just two implants can support multiple artificial teeth, so you don't need an implant to replace every single missing tooth.
Types of Implant Procedures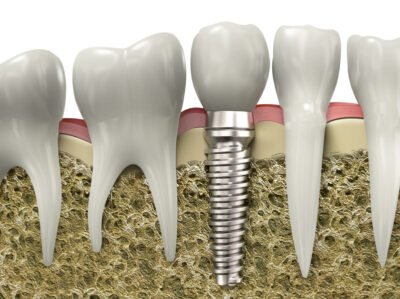 Dental implants can replace one tooth or many, depending on your budget, goals and available bone. The following procedures are commonly provided at the Yuba City Dentistry Group:
Single Tooth Replacement
A standard form of implant dentistry and the best method for replacing a missing tooth, during this procedure a single implant screw supports a single crown. Multiple teeth can be replaced using this method, and this procedure does the best job of replicating the roots that provide constant stimulation to your jawbone.
Implant Bridges
If a number of teeth are missing, and cost or bone availability is a factor, just two implants can support a dental bridge, replacing multiple teeth simultaneously. Bridges normally require the adaptation of two existing teeth, which become the foundation of the bridge. By installing implants as a foundation, your remaining teeth are left untouched and the implants preserve your jawbone.
Implant Arch Replacement
For full-mouth reconstruction, and the most economical implant procedure in terms of per tooth replacement, the implant arch procedure replaces all of the teeth in the upper and lower jaw. In the upper jaw, four implants are strategically installed to support a denture that is either permanently attached or removable. For the lower jaw, only two implants are necessary to replace the entire arch. Naturally, if more implants are installed, the arch is made more secure. Our Yuba City dentists provide all of the options for each patient, in accord with their specific situation.
Implant Failure
Implants have a very high success rate and seldom fail when patients follow a good routine of oral hygiene. In this sense, implants are like a "clean slate" for your mouth, offering patients the chance to "start again" by following the habits of proper dental care. Implants are not, however, completely artificial teeth that require no cleaning or maintenance. The implants go down into your jaw, just like the roots of teeth, and bacteria can make their way into the bone surrounding implants just like they do the bone surrounding roots. So brushing and flossing your teeth, implant or otherwise, is critical.
Other habits that lead to a higher rate of implant failure are nicotine use and teeth grinding. Nicotine use slows the complete integration of the titanium to the bone and can result in a weaker implant. Teeth grinding places extreme pressures on the implants, sometimes causing failures before the titanium is securely set in the bone. Certain diseases and syndromes also lead to implant problems. Before installing any implants, our Yuba City dentists carefully consider your medical history and present all of your risks and options.
For more information and a free consultation about installing dental implants, please contact the Yuba City Dentistry Group at (530) 671-4784, contact us via our website, or visit our comfortable office at 1052 Live Oak Boulevard in Yuba City. We look forward to showing you the benefits of dental implants for long-term tooth replacement.