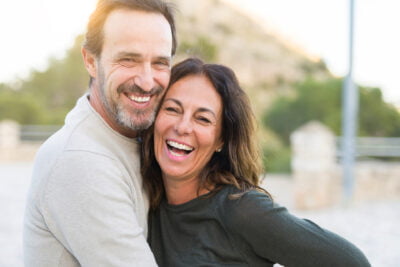 If any doctor has ever stated that you're not a good prospect for dental implants or a full mouth restoration, then the All-on-4® product is specifically created for you! A major challenge experienced by many men and women is that they have no teeth or very poor teeth due to bone disintegration. The only way you can affix implants is with a healthy amount of jaw bone! Now the Yuba City Dentistry Group provides you with an effective solution to this problem.
Dental Implants Promotion
$17,999 – Final Prosthesis Included
Reg. $20,000

Save $2,000!
Includes Initial Exam
Includes Treatment Plan
Includes X-rays
Includes Full Treatment & Final Prosthesis
Expires 10/31/2023
Why Use All-on-4®?
In the past, the only repair for a loss of jawbone was adding more bone with grafting. Albeit bone grafting has benefits, it also increases cost and demands more time for healing. The All-on-4® cure to the bone grafting problem was started over 30 years ago in Portugal. Investigation, sampling, and creation, followed by decades of dental study, led to the validation of the following benefits of All-on-4®:
Heightened Quality — The dental implants employed with All-on-4® are specifically engineered for customers with less bone.
Lower Cost — 50% of the cost for implants comes from the need for jawbone grafts. Eliminating jawbone grafts while securely utilizing existing bone lessens expense.
Less Time — Bone grafts must mend and solidify before implant treatments can start, extending the time from start to finish. With All-on-4®, no bone grafts are needed.
Improved Aesthetics — Many customers are ready to leave our office with their first set of "healing dentures" on the same day we attach their implants.
Using All-on-4® lets more men and women take advantage of the life-altering improvements of dental implants. And to offer more weight, the entire All-on-4® product line is made by Nobel Biocare, a Scandinavian company that was the initial company to distribute implants for use around the globe.
The All-on-4® Procedure
What Are Your Objectives?
Initially, we want to understand what your goals are for a full mouth rehabilitation. Are you content with your upper or lower jaw and just need to change one arch? Do both arches need modification? Do you have any behavioral, physical, or medical issues that affect the choices we make to create the most efficient possible outcome? Do you need permanently attached artificial teeth or "snap-in" dentures that are detachable for cleaning?
Determining Dental Implant Attachment
After deciding on your objectives, we then advance to the question of where to locate your dental implants. Placing implants is meticulous work. Our dentist needs to understand just how much jawbone you have and where the bones are solid. The location and length of the dental implants are decided on by taking x-rays and scans of the mouth and the surrounding jawbone structure. All-on-4® provides various sizes of implants and designs of dental prosthetics based on your custom requirements.
How to Design the Precise Smile
We also factor in your smile. Complete satisfaction is our goal, and that means building a capable dental implant that works properly and looks terrific to you and others! Based on the shape of your upper and lower jaws, the way you smile, and the best length of your gums and teeth, some cosmetic modifications on your gums may be involved during the treatment.
Placing the Dental Implants
After completing our planning process, you return to the office for the placement of your implants. Any cosmetic changes to the gums are also completed at this time. The implants are tested at the time of attachment. If they can bear the expected tension from chewing, we install a set of "healing dentures" on the implants. These are affixed, temporary dentures that minimize the forces placed on your implants.
Completing Your Procedure
Two to three months later, when the implants have integrated with your jawbone, we install the long-lasting dentures and your All-on-4® procedure is concluded. You leave with a fully capable set of teeth that rebuild your capacity to eat, sing, and speak and live the way you want!
For more information about the All-on-4® process for full mouth restoration in Oroville, contact Yuba City Dentistry Group.