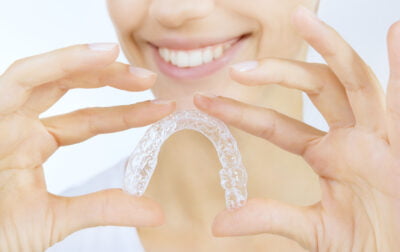 Everyone wants a bright, white smile. In an effort to satisfy consumer demand, the number of over-the-counter tooth whitening kits has increased in recent years – but so have patient complaints that these products simply don't meet their needs or expectations. What's the alternative? Consider the benefits of the Yuba City Dental Group's take-home tooth whitening kit.
With our take-home kit, you administer the treatment yourself, in the comfort of your own home. But in contrast with over-the-counter kits, our product offers a high-concentration bleaching gel that offers better results. Additionally, your Yuba City Dentist will provide you with specific instructions and is available to answer any questions.
Here's what you can expect with our professional take-home tooth whitening kit.
How It Works
First, your dentist will take an impression of your teeth. The resulting mold will be used to form two thin, flexible plastic trays that are specifically tailored to fit over your top and bottom teeth. This custom fit, which is unavailable through an over-the-counter treatment, maximizes the effect of the treatment and serves to protect your gums.
Once at home, you fill the trays with our professional-strength whitening gel. Next, you will position the trays over your teeth and leave them for about one hour. The trays stay in place for about an hour, and you repeat the process every evening before going to bed for a period of several weeks.
Professional Product, Professional Results
Over-the-counter tooth whitening kits are often messy, taste horrible, and produce subpar results. In contrast, our take-home kit is top quality and provides excellent results. Additionally, you have the peace of mind that our experienced staff can answer any questions and provide the support you need.
If you would like more details regarding our take-home tooth whitening kit, contact the Yuba City Dental Group today and we will set up an appointment at your earliest convenience.