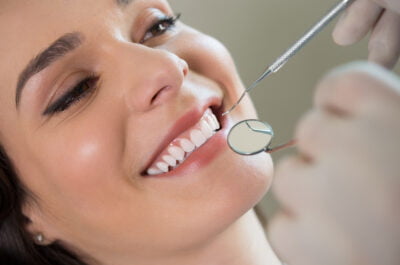 Have you ever dreamed of improving your smile? A great smile does wonders for our self confidence, and can greatly affect the first impression you leave others. If your teeth suffer from being chipped, stained, or some other abnormality, you may benefit from a dental treatment that millions of others have opted for: dental veneers.
Dental veneers are very thin, custom crafted shells that bond to your teeth to improve their appearance. Veneers change the appearance of your teeth – in effect, giving you a new and improved smile.
Should You Think About Veneers?
Veneers are commonly used to improve teeth that suffer from the following problems:
Stains
Excessive wear
Chips or breaks
Misalignment
Gaps or unusual spacing
Do you suffer from any of these? Then veneers may be the solution for you.
How it Works
The procedure of choosing and applying dental veneers typically follows three steps.
The planning phase: Your dentist will explain the details of different types of veneers available, and help you make a decision that fits your personal situation. You will be informed about the details of the procedure. X-Rays and impressions of your mouth may also be taken at this time.
The preparation phase: After receiving a local anesthetic, a small portion (approximately 0.5 mm) of your tooth enamel will be removed. This provides the ideal surface for bonding the veneer to your tooth. An impression will then be made of your tooth.
Standard veneers are most often composed of porcelain or composite resin. They will either be created directly by your dentist, or by a dental technician in a lab. (This process may take up to two weeks.)
The bonding phase: Your dentist will compare the veneer to your tooth, adjusting the veneer to achieve proper fit and appearance. Even the color may be adjusted at this time.
Next, your dentist will clean, polish, and etch the tooth to provide the best possible surface for bonding the veneer. A special type of cement is next applied, and a light beam is used to activate chemicals in the cement, allowing it to cure quickly and effectively. The veneer is applied to the tooth, and excess cement is removed. Finally, your dentist will examine your bite and make final adjustments accordingly.
Taking Care of Your Veneers
Just like natural teeth, you should brush veneers twice a day. Veneers are strong and should last for several years; however, you should avoid biting into extremely hard foods or using teeth with veneers to open packages, as this may reduce their life span. If you grind your teeth at night, you may want to consider investing in a custom mouth-guard.
If you're interested in how the Yuba City Dentistry Group could improve your smile with dental veneers, call us for an appointment today.