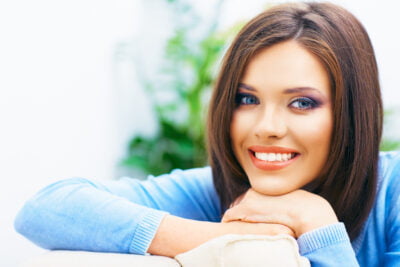 In the last few decades, porcelain veneers have grown rapidly in popularity due to the beautiful results they provide, as well as increased affordability. However, many patients are turned off by the fact that standard veneers require shaving a small amount of dental enamel to prepare the surface for bonding.
For this reason, numerous dentists and dental technicians have worked hard over the years to develop ultrathin porcelain veneers. Ultrathin veneers are similar to the standard type; however, they are even thinner – about the same thickness as a contact lens – and require very little (if any preparation) to the teeth. In other words, there is often no drilling necessary.
The Procedure
At the Yuba City Dentistry Group, we typically administer ultrathin veneers by means of a two step process.
Step one: Following an initial consultation, your dentist will take an impression of your teeth. Unlike standard veneers, there is no need to drill or shave any enamel from your teeth with ultrathin veneers; the impression is taken "as-is".
The dentist will then send the mold to a specialized laboratory, along with photos of your teeth. A specially trained technician will work to construct your ultrathin veneers. This process generally takes from one to two weeks.
Step two: Once the ultrathin veneers are ready, you will return for placement. Your dentist will place the veneers on your teeth to check the fit; then, teeth are moderately etched (although typically not drilled) to provide a good bonding surface. The veneers are placed one by one, after which your dentist will check your bite to make sure everything looks good. After some fine tuning adjustments, the procedure is complete.
Are They Right for You?
Ultrathin veneers are a relatively pain-free alternative to standard veneers, since they require minimal preparation (drilling) and generally are administered without any type of anesthetic. However, some dental professionals and patients feel that standard veneers achieve a better finished look and are easier to get used to.
If you're considering ultrathin veneers, make an appointment with your Yuba City Dentist today. Together, we'll decide which treatment is best for you.