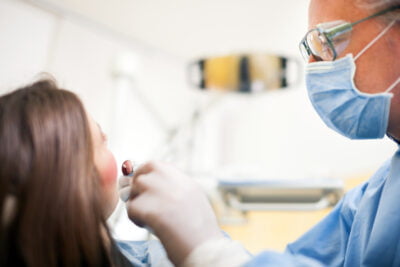 As part of your regular dental exam, your Yuba City Dentist will conduct a screening for oral cancer. At times, this quick and routine test means the difference between life and death: Although cancer is a life-threatening disease, early detection is proven to greatly increase the rate of survival.
As part of the screening, your dentist will feel for lumps or irregularities in your neck, head, face, and oral region. If he or she finds anything suspicious, they might order a biopsy.
What Is a Biopsy?
An oral brush biopsy is a painless test that involves taking a small sample of tissue from your mouth and submitting it for testing. The tissue will then be sent to a lab where it will be analyzed for abnormal cells.
Alternatively, your dentist may order a scalpel biopsy. In most cases, this procedure is also done in-office; however, it typically requires local anesthesia. Any incisions may be closed using self-dissolving sutures (stitches) that don't need to be removed.
Follow-up
Since oral tissues are rich in blood vessels, its completely normal for some bleeding to occur after a scalpel biopsy. Your dentist will provide any follow-up instructions, including how to manage swelling and what you can eat and drink.
Your report will arrive in a few days. In most cases, the growth will be identified as benign and the biopsy is only a precautionary measure. But in the case that the tissue is cancerous, early detection is vital as the key to preventing any disease from growing and spreading.