What You Need to Know About Invisalign

Families want what is best for their offspring and may realize from childhood experience that getting orthodontics created healthier smiles, but led to considerable pain and embarrassment. They're also concerned about overall oral health, because although braces straighten teeth, they also make it difficult to brush and floss them. As a result, tooth decay is not uncommon after using braces. Invisalign Teen from our Yuba City dentists is the technologically advanced oral solution for these two recurring orthodontic side effects.
Invisalign Teen is a detachable aligner that does not require any wires, metal or bulky attachments. So your young one eats the same things, participates in the same sports and experiences the same events and photo opportunities as other offspring, without any embarrassment!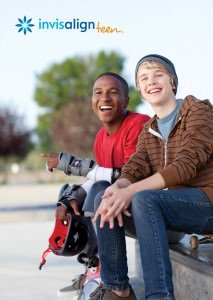 On the comfort issue, Invisalign replaces odd-shaped braces with smooth, custom-fit plastic aligners. They avoid the irritations of standard orthodontics. Every Invisalign aligner creates slight discomfort when first attached, the same as braces when they are are adjusted, but this commonly ends overnight as the muscles and jaw become used to the new force applied to the teeth. A single dose of an over-the-counter painkiller generally relieves the pain until the mouth adjusts.
One benefit to wearing traditional braces, however, is that they cannot be lost! Therefore many parents ask: "What do I do if my young person loses an aligner?" With Invisalign Teen, the Yuba City Dentistry Group can acquire up to six replacement aligners for free.
Finally, orthodontics only work if they're in the young one's mouth. Therefore Invisalign Teen aligners arrive with a Blue Dot Wear Indicator, which parents can examine to make certain their child is properly using this investment in their health and smile.
Invisalign Teen — technologically advanced orthodontics with advantages for teenagers and parents from your Yuba City dentists.