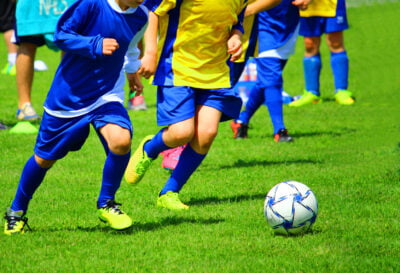 There's no getting around it: Kids are active. Playing sports, riding bikes, running, jumping, rolling and tumbling make up an important part of childhood. Unfortunately, along with these activities comes the unavoidable injuries – and many times those injuries affect the mouth.
How common are sports-related dental injuries? The Journal of the American Dental Association (JADA) reported that up to 39% of all dental injuries are sports-related (the majority of which involve the top front teeth).
So how do you avoid dealing with the trauma, lost school or work time, and substantial cost of replacing a missing tooth? A simple (and relatively inexpensive) method of prevention is a properly fitted mouthguard.
Great Benefits
Few parents would let their children play football without a helmet and protective padding. But does it surprise you to know that kids playing basketball are 15 times more likely to have a mouth or face injury than those playing football? A major reason is that mouthguards have become mandatory for most children that play football in the U.S. – which has led to a dramatic drop in mouth-related injuries.
The American Dental Association (ADA) recommends also wearing a mouthguard while playing basketball and baseball – two sports associated with a large number of dental injuries. But it doesn't stop there; the ADA also suggests wearing a mouthguard while bicycling, skateboarding, wrestling, and playing soccer or volleyball. What do the statistics say? Estimates say those not wearing mouthguards are 60 times more likely to injure their mouths than those who wear them.
Mouthguard Options
So what type of mouthguard should your child use? There are several types of mouthguards on the market, including:
"Stock" mouthguard: Also known as an "off-the-shelf" mouthguard, these are available in most sporting goods stores and retail outlets. Available in a range of sizes, the quality of these mouthpieces varies widely. They are the least expensive option, and provide some level of protection. However, they usually don't fit so well (since everyone's mouth is a little different), and are therefore uncomfortable. Stock mouthguards are often described as "better than nothing".
"Boil and Bite" mouthguard: Also available in sporting goods and retail stores, these mouthguards are somewhat customizable. After they are immersed in hot water, these mouthguards are molded and shaped within the mouth. Boil and bite mouthguards offer better protection than stock mouthguards, but many still find them uncomfortable and they often fail to cover all the teeth.
Custom-fit mouthguard: This type of mouthguard begins with a dentist taking an impression of your child's teeth. This impression is sent to a lab, where professionals craft a tough and resilient piece of equipment, made of high quality materials and perfectly fitted to your child's mouth. A custom-fit mouthguard provides maximum protection and the most comfort, for a reasonable cost.
At the Yuba City Dentistry Group, we say the best mouthguard for your child is the one he or she actually wears. A high-quality and comfortable custom-fit mouth guard is a wise investment in protecting your child's teeth for years to come. Schedule a customized mouthguard consultation today.