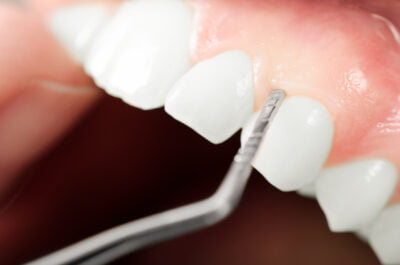 For years, the professionals at the Yuba City Dentistry Group have treated patients who suffer from the condition of receding gums. Traditional treatments have typically focused on the use of soft tissue grafts to help restore the gums to normal appearance and function. Although these methods are effective, they involve some patient discomfort and aren't right for everyone.
In recent years, however, a new technique for treating gum recession has emerged. This method has not only proven to be successful, but with comparable results to traditional grafting, while providing a more comfortable patient experience.
This new procedure is known as The Chao Pinhole Surgical Technique.
What Is the Pinhole Surgery Technique (PST)?
The Chao Pinhole Surgical Technique (PST) was developed and patented by Dr. John Chao, an experienced dentist who practices in the Los Angeles, California area.
A dentist who is specially trained in Dr. Chao's technique will use a needle to make a small hole in your existing gum tissue, termed a "pinhole". Special instruments are then used to gently loosen the gum tissue through the pinhole. Your dentist uses the tools to expand and slide your gumline to cover any exposed root structure, leaving it in a healthy position. Tiny collagen strips are placed under your gums to assist the gums to stay in place during the healing process.
Using Dr. Chao's technique, there is no need for any graft, suture, or incision. Your dentist simply adjusts your existing tissue.
What Are the Benefits of PST?
PST provides benefits that currently no other gum surgery is capable of, including:
No incisions
No need for sutures (stitches)
Minimal pain and discomfort
Faster recovery than with traditional grafting
Instant results
PST can be applied to several teeth at once, taking as little as a few minutes per tooth. (The entire surgery should take no longer than one hour.)
Patients will notice an instantaneous cosmetic improvement, and are typically ready to return to normal activities after the procedure.
Is It Really Safe?
A 33 month study examining 43 patients with 121 gum recessions using Dr. Chao's technique was published in the International Journal of Periodontics and Restorative Dentistry, one of the most respected journals in the industry. The results of the study were equally successful to traditional gum grafting, and patients undergoing PST reported almost zero pain, very little swelling and no bleeding.
If you are interested in learning more about this exciting new technique, contact the Yuba City Dentistry Group today and we would be happy to show you more.