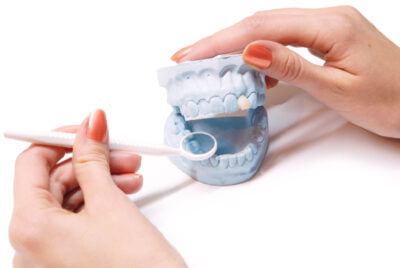 Crowns (also commonly called caps) are tooth-shaped covers that fit over the main structure of a tooth. Your dentist may recommend a crown to restore a damaged tooth to its original size, shape and strength.
In the process of constructing a custom crown to fit your tooth, your Yuba City Dentist may have you temporarily use a prefabricated crown, typically made of plastic or stainless steel. Temporary crowns allow you to continue using the tooth as normal while you wait for your permanent crown to be completed.
How Long?
Temporary crowns are not meant to be used for an extended period of time, and in most cases will only remain in your mouth for up to two or three weeks.
However, there are some instances when your dentist recommends using a temporary crown for up to a year. This is generally due to a special situation, such as when your permanent crown requires a complicated lab procedure, or the need to delay final crown placement due to orthodontics or other dental procedures.
Care and Maintenance
Your dentist will use temporary cement to secure the crown in its proper position, and this should keep the crown in place. Nonetheless, certain precautions should be taken.
For example, you should:
Refrain from eating sticky or chewy foods (like chewing gum or candy) that may grab or pull the crown off
Try shifting the bulk of your chewing to the side of your mouth without the temporary crown. This will minimize chances for the crown to fall off
Avoid chewing especially hard foods (such as raw vegetables or ice), as these could dislodge or break the crown
When flossing, slide the dental floss out instead of lifting it as you normally would. Otherwise you may accidentally pull off the crown
Once your permanent crown is ready, your temporary crown will be removed and replaced. Once the new crown is permanently cemented unto your tooth, you should be able to return to your normal eating habits.