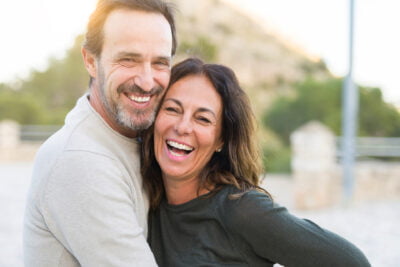 All-on-4® is a complete treatment especially established for customers without enough bone for conventional dental implants. Before, if a patient had insufficient bone remaining for implants, they only had two choices: common dentures or a bone graft procedure. All-on-4® offers an alternative for implants without needing a jawbone graft.
Dental Implants Promotion
$17,999 – Final Prosthesis Included
Reg. $20,000

Save $2,000!
Includes Initial Exam
Includes Treatment Plan
Includes X-rays
Includes Full Treatment & Final Prosthesis
Expires 12/31/2023
The All-on-4® Resolution
In the past, the only remedy for a loss of jawbone was adding more bone with grafting. Albeit bone grafting has benefits, it also adds costs and needs more time for recovery. The All-on-4® cure to the bone grafting difficulty was began over thirty years ago in Portugal. Research, testing, and development, followed by years of study around the globe, led to obviously clear validation of the following benefits of All-on-4®:
Lesser Expense — 50% of the cost of dental implants typically comes from the need for bone grafting. Eliminating bone grafts reduces the budget of the All-on-4® treatment.
Higher Caliber — If you do not undergo bone grafts, you need better implants that can still affix properly to accessible bone. All-on-4® implants were solely developed for this job.
Less Time — All-on-4® eliminates the healing time involved for jawbone grafts and immediately offers an operational, solid bond to the jaw.
Superior Esthetics — By attaching teeth on the same day of the treatment, All-on-4® starts reviving patient self-confidence promptly!
Using All-on-4® lets more women and men benefit from the life-altering improvements of implants. And to offer additional confidence, the entire All-on-4® product line is made by Nobel Biocare, a Scandinavian company that was the initial company to market dental implants for use around the world.
The All-on-4® Procedure
What Are Your Goals?
First, we desire to know what your plans are for a full mouth reconstruction. Are you pleased with your lower or upper jaw and only need to replace one arch? Do both arches need modification? Do you have any physical, behavioral, or medical issues that determine the decisions we make to create the finest possible outcome? Do you need permanently secured dentures or "snap-in" dentures that are detachable for brushing?
Determining Dental Implant Placement
Once your goals have been considered, the following step is to consider the placement of your implants. The system of placing dental implants requires a significant deal of precision. To help with this, x-rays and scans are taken to find the essential jawbone structure that we need to attach your implants. Based on the remaining bone, we plan the style of All-on-4® treatment necessary to ensure success.
How to Design the Right Smile
Digital information about your gumline, jaw, and bone structure is used to construct guides that aid the dentist to place the dental implants exactly. Some tooth extractions may be necessary, and adjustments may be done to your gumline for cosmetic reasons. The implants are all installed at the same time. For the majority of clients, after verifying the sturdiness of the implants' attachment to the jawbone, short-term "healing dentures" are screwed into position on the implants, so you can depart our dental office with a full group of teeth on the same day as your treatment.
Installing the Implants
After a recuperation period of 2-3 months, the implants have integrated with your jawbone and can sustain the forces produced by eating with standard dentures. During that time, your tailor made dentures were produced according to your specifications. When you return, we take out the healing dentures and apply the long-lasting dentures. If they are the removable type, we make sure you can remove them easily before leaving our office.
With your brand new, complete group of teeth, you can return to eating the meals you like, to communicating normally, to singing, and to laughing with improved self-esteem! The dental implants support your jaw and protect the remaining bone. Your appearance and confidence increase, and an essential aspect of your life is comfortable again!
For more information about how All-on-4® can benefit you in the Marysville area, please contact us at Yuba City Dental Group.